Intro
Replacement CRAH

Increase cooling capacity and achieve significant energy savings without redesigning your data center. chilled

STULZ Replacement CRAHs are high capacity, direct drop-in, chilled water units. They replace inefficient legacy units and provide instant energy savings and improved performance.
Replacement CRAHs Apply to:
Liebert FH 422C

Liebert FH 529C

Liebert FH 600C

Liebert FH 740C
Why Replace?
For existing data center owners who need to replace old, unreliable CRAHs quickly and efficiently, STULZ provides a low cost, highly efficient replacement.
Uses existing floor stands, electrical and piping connections
Lowers maintenance costs
Provides advanced communication and control capabilities
Lowers operating costs
Benefits
Application
STULZ cabinet and unique design features allow a direct drop-in replacement

No modification to existing piping mains, primary electric, or floorstand
Performance
STULZ V-Coil arrangement

Energy savings advantages of up to 40%, simply by replacing the CRAH

Additional energy savings of 50% and beyond can be achieved using advanced controls

Increased air volume at maximum fan speed

EC Fans operate at lower speeds, lower energy, even airflow

EC Fans consume less energy, therefore higher net cooling capacity

EC Fans provide optimized under-floor pressure and balanced airflow

Fast ROI; qualifies for utility rebates
E2 Controller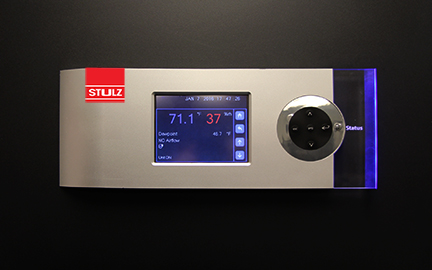 The E2 Controller will allow communication with all major BMS/BAS systems
Updated existing control options (under-floor pressure control; return or supply air temperature control; independent fan and valve control)
Downloads
Downloads
STULZ CyberSonic Brochure

File: STULZ_CyberSonic_Brochure_1010_en.pdf

Type: Adobe PDF

Size: 816,54 KB

Language: English

Date: 2010-10-01

download